Thank you for contacting Premier Home Designs LLC, a representative will contact you shortly.

Residential Siding
Supplying The Best Siding Products For You
---
Whether your home fits neatly into a specific architectural style or is more of a hybrid, CertainTeed has siding profiles and textures that will highlight its best features. No other manufacturer offers such a wide variety of siding products and materials, carefully designed to work together for a coherent, natural look. No other manufacturer makes it easier to obtain every element of your home's exterior from a single trusted source. And no other manufacturer provides sophisticated visualization tools and professional advice to help you find just the right combination to unlock your home's potential.
The Power to Mix and Match
---
CertainTeeds complete selection of exterior product options is tailor-made to take advantage of the exciting mix-and-match trend: combining various products, styles, colors and textures to create truly unique exterior designs. Adding soffit and trim delivers just the right accent. All choices coordinate perfectly with fence, decking and railing options for a complete package.
Cool and Fresh
---
For a peaceful look, opt for blues, greens, and cool grays. Trim in a neutral tone provides a striking counterpoint to colorful siding.
Warm and Inviting
---
Colors like red, yellow and brown are a good choice when you want to highlight distinctive exterior features and give your home a welcoming feel.
Crisp and Exciting
---
A dark roof paired with walls in a light color like marigold adds visual distinction to homes with simple designs.
Subtle and Calm
---
If your homes exterior has a lot of design elements, a monochromatic approach will simplify its appearance.
Strong and Bold
---
For large structures on tight lots rich shades of brown, green, and red make your home appear smaller while adding drama.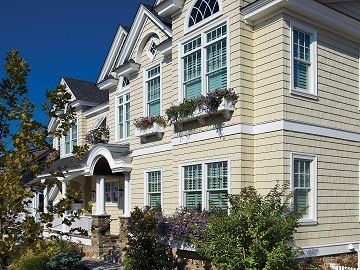 Light and Carefree
---
Use colors on the lighter end of the spectrum to add volume and interest to smaller homes and soften sharp edges.